Our breeding program goal is to produce a dog that meets THE GERMAN SHEPHERD DOG standard

In every aspect!

Samson Of Pickern The Third OFA Excellent


Ch Brentaryl's Barque Epitome x Ch T-Ho's Shottothehart v Barque

In addition to having excellent show aspects, our dogs are affectionate, loyal, intelligent and obedient. You will find them shown in both the conformation and obedience rings. During 1997 alone, we placed five Police Dogs and one Seeing Eye Dog, too! These dogs are so loyal they would surely lay down their life for you or your family members' protection if the need were ever to arise.
Pictured above is "Samson", and daughter "Nadia", centered below, took a second place award at the Midwest Futurity during the Summer of 99'! His other daughters, "Tara & Sarah", all whom have won very prestigious show awards. On May 16th "Tara" takes a fine second place at the GSDCA Futurity for the Great Lakes Region. Then just two weeks later "Sarah" takes a very respectable 4th place finish in the Mid-Atlantic Futurity.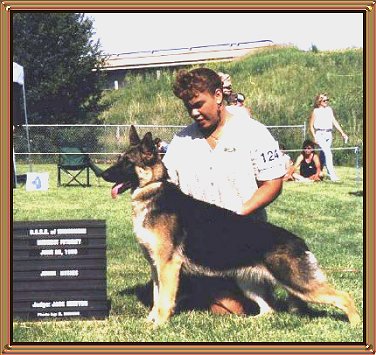 Nadia

Seen below here, is one of our pups that went to a new home this past Fall. But if your looking for a nice German Shepherd this fall or winter, we will have many to choose from. Give us a call for delivery status.
Any puppy/dog from Detmer's Kennel is sold under a written contract for the protection of the buyer, seller, and the animal. All of our dogs are warranted against problems with the hips, elbows, and temperament. We also offer a buyer satisfaction plan whereby a replacement dog will be given should there be any problems with the original purchase.
For additional information please call Al or Betty Detmer direct at:
517-422-4019 or 517-422-6044
We are located in beautiful North Central Lower Michigan. Our mailing address is 4858 Tower Hill Road, Houghton Lake Michigan 48629 and of course you can contact us via email at detmer1@voyager.net. To make arrangements to purchase a puppy or get complete PEDIGREE information, please feel free to ask. Our dogs have found homes in many states, we ship anywhere in the country. We are also active members of:
German Shepherd Dog Club of America and Midland Michigan Kennel Club
If you are looking for products to prepare your pets and animals for this coming fall and winter... by all means stop by Detmer's Supply Store! We carry a complete line of feeds and supplies to keep any kind of animal happy and healthy all year long. We are open Monday through Friday 9:00am until 5:00pm., and if your interested in a puppy... by special appointment too!







Make sure to visit our puppy page for upcoming litters!
E-mail me!




You are German Shepherd Lover
to visit my site!!! Thank you!
[ Sign my GuestBook ]

[ Read my GuestBook ]
[ GuestBook by TheGuestBook.com ]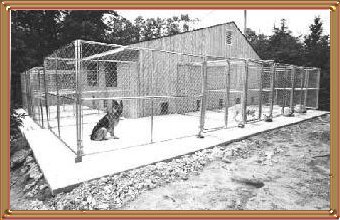 Our dogs like company... Please stop by and visit them!
Please click >>>
www.houghtonlake.org
to get additional Houghton Lake area information
Copyright © 1999, Detmer German Shepherds
All rights reserved.
No graphic or statement may be used from this site
without the express permission of
Al Detmer, Detmer German Shepherds
This site was launched: 11/25/1999
This site was updated: 02/13/2000